About FAW-Volkswagen (FAW-VW)
FAW-Volkswagen Automotive Co., Ltd., (hereinafter referred as FAW-VW) was established on February 6, 1991 as a large-scale joint venture between China Faw Group Corporation, German Volkswagen AG, Audi AG, and Volkswagen (China) Investment Co., Ltd. It is the first modern passenger car manufacturer to begin mass scale production in China.
After 27 years of development, FAW-VW now has production bases in Changchun in Northeast China, Chengdu in Southwest China, Foshan in South China, Qingdao in East China and Tianjin in North China.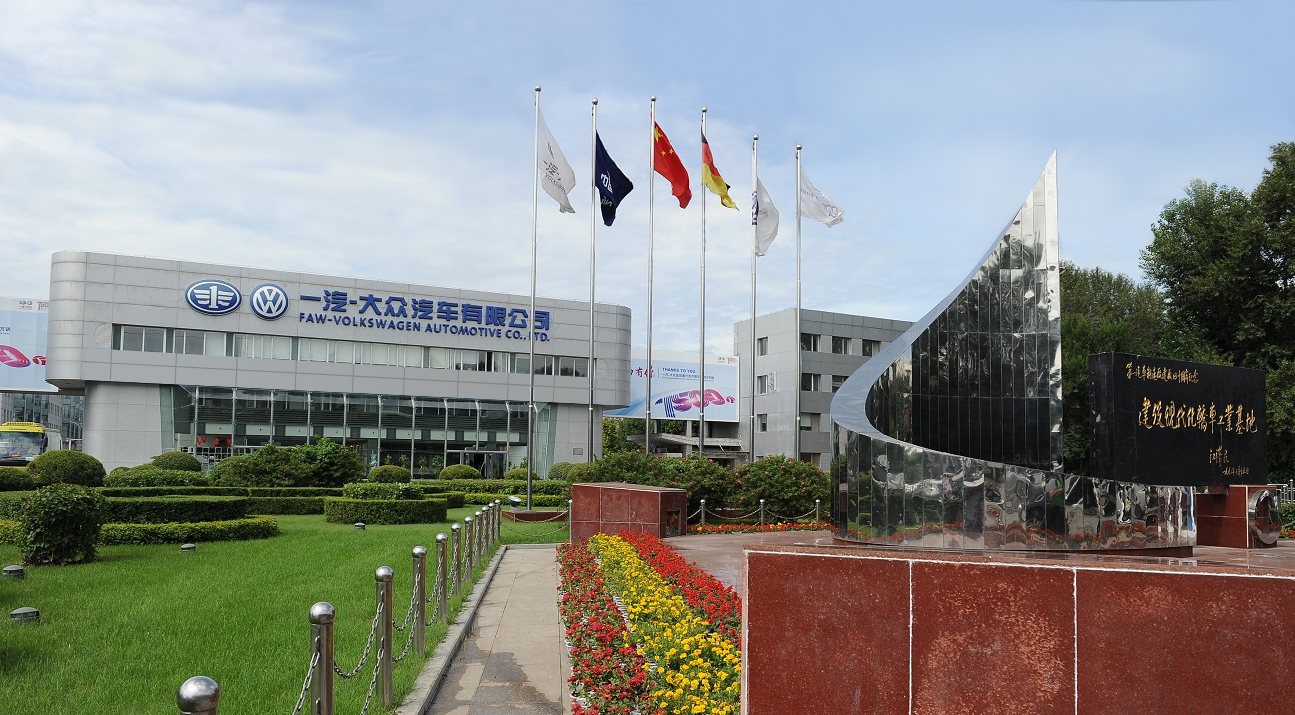 Comprehensive Mix of Products
Production has evolved from a single brand and product at the time of FAW-VW's founding to now include two major brands, Audi and VW. Today, production covers 16 series of Class A, B and C passenger vehicles to encompass a wide range of price points, one of the broadest in China's auto industry.
In December 1991, FAW-VW's first product, the Jetta, made its debut. In May 1996, the first Audi 200 rolled off the line, filling a gap in the production of luxury cars in China. FAW-VW's Volkswagen models include: Bora, illustrating movement and personality; C-Trek, Volkswagen Group's first crossover wagon worldwide; Golf, a classic hatchback; Sagitar, setting benchmarks for the Class A+ sedan market in China; Magotan, leading new trends for Class-B cars; and CC, representing a sleek and elegant coupe. FAW-VW's Audi family is also star-studded with a strong model lineup: Audi A3 leads for the future; Audi A4L redefines the concept of luxury Class-B cars; Audi Q3 is reshaping trends; Audi Q5L continues to break SUV sales records; and Audi A6L maintains the lead position for high-end executive sedans.
Advanced Manufacturing
FAW-VW's high quality manufacturing is enabled by its world-leading production and manufacturing systems, which adopt Volkswagen Group's MQB and MLB platforms for assembly. Each step of production utilizes world-leading equipment and processes to ensure precision and stability in each of FAW-VW's products. Automated stamping systems produce both steel and aluminum parts. Leading welding processes are used in laser welding, stud welding, and inspection and data management. A water-based paint process, mist separation system, fully-automated spraying technology and other cutting-edge processes are applied in painting for quality and high-efficiency production that meets green and energy efficiency standards. Similarly, the world's most advanced and precise production and measurement equipment is adopted for the production of engine transmissions.
Excellent R&D Capabilities
FAW-VW has continuously enhanced its R&D over the course of its rapid development. Key departments include a moulding test shop, mould and virtual reality center, vehicle safety center and several other functional labs. The FAW-VW vehicle test site is under construction, covering an area of 14 square kilometers with a total test area of 670,000 square meters. Projects moving ahead in development include an acoustic center, parts testing center and electromagnetic compatibility center. A comprehensive testing methodology and high-precision testing equipment ensure FAW-VW's strengths in product pre-development, localization development and approval, parts development and vehicle road test. The Dyno Test Center, with an investment of RMB 520 million, covers an area of 12,000 square meters and is one of the largest test centers for vehicle and powertrain components and parts in China.
Strict Quality Control
Quality is the life of the enterprise. FAW-VW has always been insisting on quality first as its operational policy, seeking constant quality improvement to meet customer satisfaction and expectation, and taking "Advance with us" as the core of its concept of brand development. It has been continuously improving its quality centering on customer satisfaction, standardizing its service processes, upgrading its service standards, improving all round service before, during and after the sales, providing hearty service to its customers and setting up and perfecting its customer relation management system.
Green Partner Certification
The Green Partner Action Plan transforms the supplier system, manufacturing and production processes, and sales system to gradually build and improve an energy-saving and environmentally-friendly green automotive industry chain. The launch of the FAW-VW Green Partner Action Plan leads the Chinese automotive industry towards green and sustainable development, rendering FAW-VW the industry benchmark and model for energy conservation and environmental protection.
FAW-VW is the first company in the domestic automotive industry to develop an effective "green partner" standard for distributors. It provides continuous free training to more than 1,000 dealers, making its influence both transformative and binding. Since 2002, FAW-VW has required its suppliers practice effective environmental management, including meeting ISO14001 environmental management system certification.
FAW-VW's green practices apply to suppliers, distributors and other partners upstream and downstream, requiring they practice environmental protection, advance the Green Partner Action Plan and build FAW-VW's green value chain.
A Role Model for Social Responsibility
As China's leading automobile enterprise, FAW-VW has been actively practicing the corporate mission of "building valuable classic cars, promoting harmony of people, cars, and society", and fulfilled social responsibilities. FAW-VW continuously provides consumers with reliable quality products and excellent travel experiences while contributing to local economic development and the local automobile industry ecosystem.
FAW-VW protects the environment and adheres to green standards to build energy-saving and environmentally-friendly plants. Its annual investment in environmental protection amounts to tens of millions of Yuan. FAW-VW is committed to local communities and the public good, including holding youth football training camps, advocating traffic safety, and taking the lead in setting a good example. In 2014, FAW-VW launched a corporate social responsibility strategy aiming becoming China's model enterprise for social responsibility. That same year, it released the company's Sustainable Development Report and became the first automobile manufacturer in China to release three third-party certification reports successively. FAW-VW demonstrates its commitment to users, society and the future as it achieves the sustainable development of people, cars and society. It does this as it supports the creation and enjoyment of a high quality "car life" for more than 16 million customers.
Future Strategy
In 2016, facing the future and new economic conditions, industry integration and upgrades, a boom in new technologies and a changing consumer environment, FAW-VW developed its 2025 Strategy to sustainably strengthen research and develop new businesses based on lean management.
In November 2017, FAW-VW officially released the 2025 Strategy. Looking towards 2025, FAW-VW will consolidate existing businesses to continuously enhance system capabilities, expand and strengthen its aftermarket position, and accelerate the expansion of new businesses, for green and sustainable development throughout the entire value chain.
FAW-Volkswagen is marching forward on the path of sustainable development.
To learn more, please go to

http://www.faw-vw.com/